We have a variety of services available to suit everyone from a 1-person office to a mining company requiring multi-megabit connections. Our network spans across the Iron Range– we specialize in connecting multiple locations.
Access Broadband's network extends across the Iron Range. We are uniquely suited to connect multiple branch offices, without the data ever leaving our high-capacity network. As a business owner, you could have the same great connectivity at the office AND at home.
We reach areas un-served by traditional broadband infrastructure. The above map is a guideline but is not all-inclusive. Several factors (including line-of-sight to our equipment, if required in specific markets) will determine the actual availability. Contact us for more information about service in your area.
Below are the monthly fees for various services we provide. Setup fees are additional– and vary based on the type of equipment used and contract length. Our network built around the needs of our customers–let us know if we can provide a custom solution for you.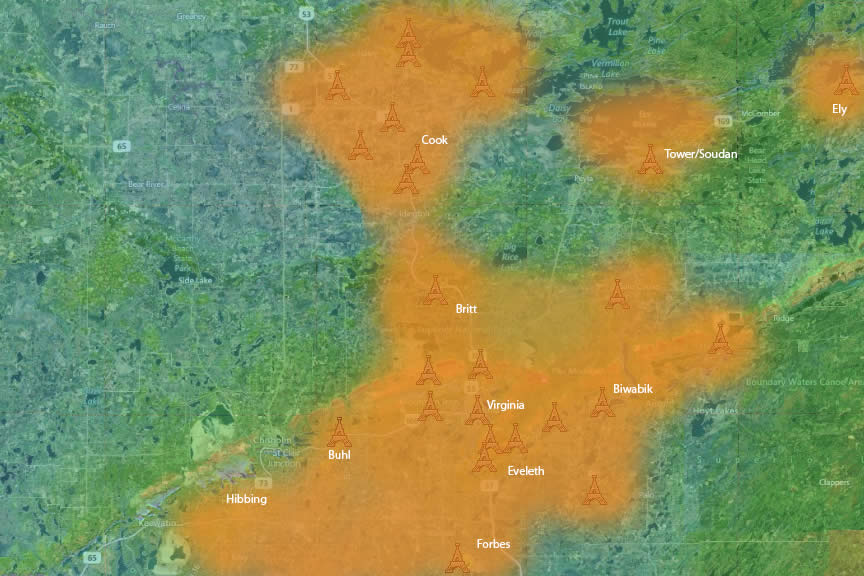 Small Business Broadband
Secondary Bandwidth Priority Tier

Private IP Address*

No Data Cap!
Standard Business Broadband
Includes Web Site & Domain Hosting

Primary Bandwidth Priority Tier

Public IP Address

No Data Cap!
Advanced Broadband
Most Popular
Includes Web Site & Domain Hosting

Guaranteed Bandwidth Priority Tier

Public IP Address
Dedicated Bandwidth
Build your own package
Dedicated Private Wireless connection to our fiber connection

Guaranteed Bandwidth Priority Tier

Public IP Address

Priority repair and response.
Web Hosting
Secure Placement on our High-Capacity Servers & Backbone

1GB Server Disk Space

FTP & SSH Access

Wordpress Available
Server Co-Location
Enjoy the flexibility of managing your server.

We provide space in our network operations facility and a connection to our network.

Pricing is based on some factors, including Bandwidth, Power, and Rack Space requirements.
Does Access have data caps on usage?
No, service is unlimited data usage. Unlike most cellular data hotspot plans.
Does Access throttle connections after high usage?
No.
Can I use a VPN with Access to work remotely or privacy?
Yes! Access can accommodate all forms of telecommuting & VPN connection types. We also offer dedicated IP addresses for those companies that require it, for a nominal extra monthly charge.
Is there support
Yes, we offer live local support Monday – Friday 8-5pm. (excluding holiday's)
You may also contact us through Facebook.
Can I use my own Router?
Yes! While Access needs to supply the Radio (modem) and mount that on the outside of your home or building. Its best and more cost-effective for you to supply a router of your choice for use with our service.
Can I watch streaming video?
Yes, our network has speeds that support streaming services. Some devices work better than others for streaming. A dedicated device like a gaming console, smart TV or set-top box will work better than a DVD player that has the ability to stream those services.
Does weather affect Internet service?
Typically no… Weather impacts us more with power loss vs transmission issues. Ice buildup is often an issue in some areas. However regular rain or snowfall doesn't impact service as it does with satellite services
Can I move while under contract?
Yes, if you move to another area where Access is available you can continue your contract. We will test the location for free to determine if service is available. However, there will be an installation charge to install the equipment to your new location. The contract covers the details if we cannot service the new location.
Bandwidth Tiers
We strive to provide the highest quality broadband access available. Every internet provider has a limited amount of capacity leading to their internet backbone. (Although we've got a SERIOUS pipe coming into our network). We've developed a unique way of managing our network, which provides for faster experience for everyone:
Rather than just merely limiting or putting a hard-limit on the amount of data (the size of your "pipe") you can push– we've implemented a class-based sharing system.
On most of our accounts, we allow the customer to utilize the full potential of the wireless equipment, without hard limits.
If the system is ever maxed out, it will start assigning priorities. Typically done by a factor of 2. (Customers in Tier 1 will be allocated twice as much bandwidth as Tier 2, but those customers on a lower tier won't have to worry about being left with the internet "scraps".)
Most of the time, the user will not even realize this prioritization system is in place, and will usually enjoy near maximum speeds of the equipment. Actual speeds will vary depending on location, signal level, and other factors, but are prioritized to provide a minimum of 128kbps at all times to all customers.
Nearly all customers will find that the service is provided as a "prioritized best-effort" service, is more than adequate for all their needs.
If you have specific bandwidth requirements, we encourage you to sign up for an account which will guarantee a certain quality-of-service level at all times.
To the left is is the bandwidth priority map currently implemented: